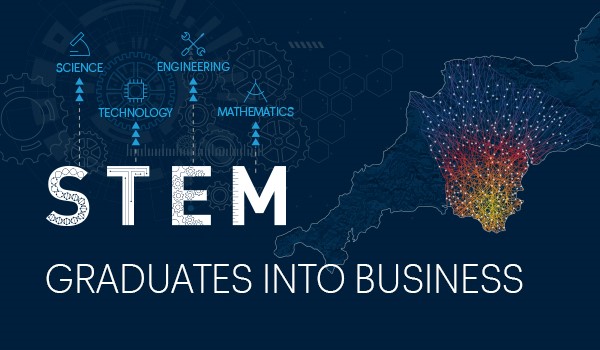 STEM Graduates into Business
Find the right people, with the right skills, now with STEM Graduates into Business at the University of Plymouth
Small & medium enterprises (SMEs) in North Devon can now recruit skilled, recent graduates within the Science, Technology, Engineering and Maths (STEM) fields and receive an incentive payment of up to £3,600.
The STEM Graduates into Business project, which is part-funded by the European Regional Development Fund (ERDF) and led by the University of Plymouth, supports SMEs to recruit recent graduates with fresh, innovative ideas and the drive to develop professionally. Employed as a paid-intern for either 6 or 12 months, STEM Graduates into Business can offer flexibility to small and medium businesses looking to meet current market demands.
Recruitment with a difference
It costs approximately £2,000 to recruit a new employee (Resourcing and Talent Planning 2017, CIPD) but working directly with STEM Graduates into Business removes any upfront recruitment costs. The project will co-ordinate the recruitment process, supporting the creation of an eye-catching vacancy, advertise the vacancies on regional and national graduate platforms saving your business up to £1,000. It will promote the vacancies to exclusive University and strategic partner channels, including PETROC.
With no need to go through the usual job sites or expensive recruitment agencies, you can access recent graduates with the STEM skills your business needs without breaking the bank.
Return on your investment
The right people with the right skills in your team will energise your business.
STEM Graduates into Business provides access to adaptable graduates, who bring cutting-edge sector knowledge and determination for professional development. A graduate can bring state-of-the-art skills that enable new product development or the creation of a new service – the perfect candidates to boost your business growth.
Supporting the retention of highly skilled workers in North Devon
65% of graduates from the region, stay in the region (Gradsouthwest) and the University of Plymouth with STEM Graduates into Business is working to increase this. As a hotbed for micro-business, North Devon is well placed to attract recent graduates looking to stray away from the pull of the capital and big corporations. The STEM Graduates into Business project aims to enable higher graduate employment within the region, thus improving graduate retention.

For more information about STEM Graduates into Business visit www.plymouth.ac.uk/STEM-grad or call 01752 587736.