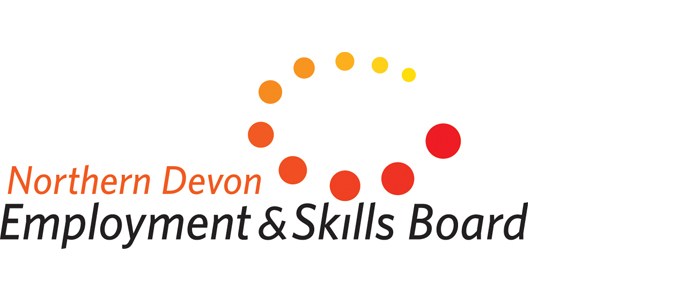 The Northern Devon Employment and Skills Board is an employer led organisation with a strategic vision to promote and influence Northern Devon's workforce development with measurable outcomes.
To ensure the needs of employers and potential investors in Northern Devon are understood and communicated with regards to employment and skills issues, thus having a positive impact on the economic wellbeing of the area by identifying and implementing appropriate actions through partners to improve provision and support.
Developing a highly skilled workforce for the future needs of Northern Devon. 
Because across North Devon and Torridge skills and qualifications levels, which provide a reasonable indicator of the quality of the local labour supply, are significantly poorer than both the Devon and national average.

There is a tendency for those who do achieve higher level skills to leave and not return.

Many larger local businesses or businesses/industries with specialist skills needs have to import their more highly skilled staff.

Low productivity; the negative impacts this has on the local economy from both organisations in Northern Devon that have a strong presence and capacity to move higher up the value chain, and opportunities for others beginning to emerge.

The lack of a skilled workforce available to faster growing indigenous employers is a barrier to the speed of growth.

The lack of skills readily available to inward investing companies is a potential barrier to investment and means Northern Devon is less competitive than the likes of Exeter, Plymouth, Newton Abbott and the M5 corridor.
The availability of a skilled workforce is an essential component of delivering future economic growth and increased productivity; however, the availability of higher value jobs to attract and retain people with higher skills is an issue in Northern Devon.
Knowing what skills and training solutions are sought by businesses in Northern Devon; communicating what is currently available and any challenges in meeting employer needs now and in the future; encouraging capital investment.
Influencing and improving access to high-quality training that meets the needs of employers and learners, through the sharing and championing of good practice and openly challenging poor performance and lack of provision where skills gaps are identified.
Collaborating to make best use of resources; avoid duplication and address gaps in skills and training provision, with an emphasis on opportunities for progression to higher level qualifications to ensure we consistently develop and retain talent in our area long term.
NDESB Key Priorities
To achieve its vision, the NDESB will strive to increase the levels of education and skills within the workforce to foster growth and enable residents to access employment opportunities. Within the NDESB overall strategy to promote and develop a higher skills provision in Northern Devon, retain talent in the area and increase the number of skilled workers, enabling opportunities for investment and growth, four strategic priorities have been identified.
Strategic Priority 1: Ensure that our future workforce is highly skilled and properly prepared and motivated for their future roles both in the workforce and as responsible citizens.
Strategic Priority 2: Ensure that our current workforce is aspirational and, through the ongoing development of their skills, able to make a full contribution to the workforce during their working careers.
Strategic Priority 3: Work with our business community to realise local workforce potential. Challenge Education.
Strategic Priority 4. Increase productivity in Northern Devon to ensure positive impacts on existing business growth and potential inward investment.